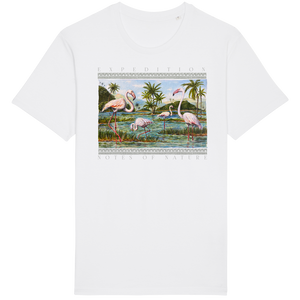 T-SHIRT WOMEN "FLAMINGOS NOTES"
T-SHIRT WOMEN ORGANIC
SKU: TM60004-WH-16

Medium fit ORGANIC ESSENTIAL T-SHIRT for both men and women printed in our own workshop using phtalate-free inks and following a production process totally respectful to the environtment. Organic cotton is a natural GMO-free fiber wich requires lower water consumption than standard cotton. Its production does not require the use of chemicals (no fertilizers or pesticides) and favors rotation of crops to keep soil healthier, more fertile and maintain humidity.
MEDIUM FIT SINGLE JERSEY
160 GSM 100% Organic Ring-Spun Combed Cotton
Set-in Sleeve / 1x1 rib at neck collar / Inside back neck tape in self fabric / Sleeve hem and bottom hem with wide double needle topstitch
FAIR WEAR, OEKO-TEX, GOTS

 

&

 

PETA

 

Certified
SIZECHART

T-shirt

Men

| SIZES | XS | S | M | L | XL | 2XL | 3XL |
| --- | --- | --- | --- | --- | --- | --- | --- |
| Half Chest | 49.0 | 50.0 | 53.0 | 56.0 | 58.0 | 62.0 | 64.0 |
| Body Length | 62.0 | 69.0 | 72.0 | 74.0 | 76.0 | 78.0 | 80.0 |

Women

| SIZES | XS | S | M | L | XL | 2XL | 3XL |
| --- | --- | --- | --- | --- | --- | --- | --- |
| Half Chest | -- | 41.0 | 44.0 | 47.0 | 50.0 | 53.0 | -- |
| Body Length | -- | 61.0 | 63.0 | 65.0 | 67.0 | 69.0 | -- |

Kids

| SIZES | 02 | 04 | 06 | 08 | 10 | 12 |
| --- | --- | --- | --- | --- | --- | --- |
| Half Chest | 31.0 | 34.0 | 37.0 | 40.0 | 43.0 | 46.0 |
| Body Length | 41.0 | 44.0 | 47.0 | 50.0 | 54.0 | 58.0 |

--

Sweatshirt

Unisex

| SIZES | XS | S | M | L | XL | 2XL | 3XL |
| --- | --- | --- | --- | --- | --- | --- | --- |
| Half Chest | 48.0 | 51.0 | 54.0 | 57.0 | 60.0 | 63.0 | 66.0 |
| Body Length | 67.0 | 68.0 | 69.0 | 70.0 | 71.0 | 72.0 | 73.0 |

Kids

| SIZES | 04 | 06 | 08 | 10 | 12 |
| --- | --- | --- | --- | --- | --- |
| Half Chest | 37.0 | 41.0 | 45.0 | 48.0 | 51.0 |
| Body Length | 46.0 | 50.0 | 54.0 | 58.0 | 62.0 |

--

Organic T-shirt

Men

| SIZES | XS | S | M | L | XL | 2XL | 3XL |
| --- | --- | --- | --- | --- | --- | --- | --- |
| Half Chest | 45.0 | 48.0 | 51.0 | 54.0 | 57.0 | 60.0 | 63.0 |
| Body Length | 67.5 | 69.5 | 71.5 | 73.5 | 75.5 | 77.5 | 79.5 |
| Sleeve Length | 19.5 | 20.5 | 20.5 | 21.5 | 21.5 | 22.5 | 23.5 |

Women

| SIZES | XS | S | M | L | XL | 2XL | 3XL |
| --- | --- | --- | --- | --- | --- | --- | --- |
| Half Chest | 36.0 | 38.5 | 41.0 | 44.0 | 47.0 | 50.0 | 53.0 |
| Body Length | 60.5 | 62.5 | 64.5 | 66.5 | 68.5 | 69.5 | 69.5 |
| Sleeve Length | 13.0 | 14.0 | 14.0 | 15.0 | 15.0 | 16.0 | 16.0 |

Kids

| SIZES | 04 | 06 | 08 | 10 | 12 |
| --- | --- | --- | --- | --- | --- |
| Half Chest | 33.0 | 35.0 | 37.0 | 41.0 | 44.0 |
| Body Length | 42.0 | 46.5 | 51.5 | 57.5 | 62.5 |
| Sleeve Length | 11.5 | 12.5 | 14.5 | 16.5 | 18.5 |

Kids (Basic)

| SIZES | 04 | 06 | 08 | 10 | 12 |
| --- | --- | --- | --- | --- | --- |
| Half Chest | 29.0 | 32.0 | 35.0 | 38.0 | 41.0 |
| Body Length | 42.0 | 45.0 | 48.0 | 52.0 | 56.0 |

--

Organic Sweatshirt

Men

| SIZES | XS | S | M | L | XL | 2XL |
| --- | --- | --- | --- | --- | --- | --- |
| Half Chest | 46.5 | 49.5 | 52.5 | 55.5 | 58.5 | 61.5 |
| Body Length | 67.5 | 69.5 | 71.5 | 73.5 | 75.5 | 77.5 |
| Sleeve Length | 76.5 | 78.0 | 79.5 | 81.0 | 82.5 | 84 |

Women

| SIZES | XS | S | M | L | XL | 2XL |
| --- | --- | --- | --- | --- | --- | --- |
| Half Chest | 45.5 | 48.0 | 51.0 | 54.0 | 57.0 | -- |
| Body Length | 62.0 | 64.0 | 66.0 | 68.0 | 69.0 | -- |
| Sleeve Length | 69.8 | 71.0 | 72.5 | 73.8 | 75.0 | -- |

--
The measurements are calculated in centimeters (cm.) and it could exist a textile tolerance of +/- 5%
The size of printing area is the same for ALL sizes